Based on our customer feedback and to add to your Happy Hints experience, we've now added Twitter to the app!

Also we've displayed the running time for each track in the 'Listening-In' section to help plan your day a little better.
We hope you enjoy these updates and look forward to hearing from all our loyal customers on additional features you'd like to see in future versions.
Please read below and see what those enjoying the Happy Hints experience have to say!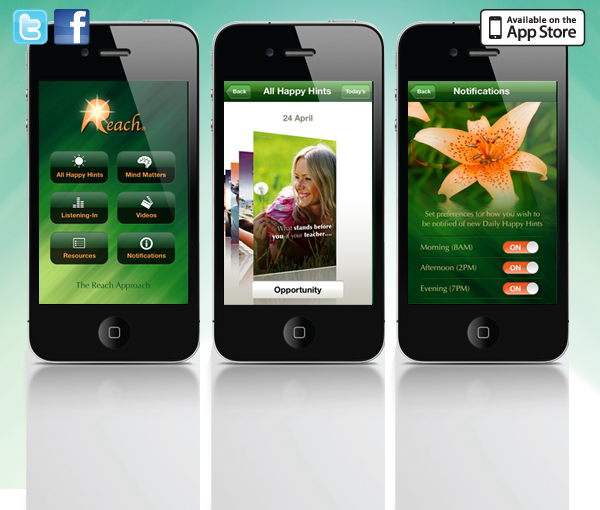 Amazing resource for a beautiful mind!
by thelearningspa
This app has everything one could possible need to nurture the mind whilst on the move. I travel quite a lot and so I'm enjoying filling my mind with beautiful, empowering thoughts, whilst on the train or sitting at the airport. It occurred to me recently that I can choose the atmosphere I create in my head... and this is the perfect resource to keep me occupied in the right way! LOVE IT!
Happy Hints
by wonderfullywell
This is the most amazing app I have ever come across. It is inspiring, comforting, thoughtful and certainly a companion for life. It adds something very unique to your day, something that can change your day for the better! I highly recommend this app and I promise that you'll never find anything to match its honesty and integrity and pure delight as you open it daily.
The best £2.99 you'll ever spend!
by Ebonylow
This is the best £2.99 you could ever spend in your life! The wealth of knowledge is priceless. There isn't a better investment you can make than in yourself so in less fortunate times and with the challenges of day to day life, this is something you can afford to buy.  Everyone deserves to be happy! All the resources are free you find something new all the time, there's enough here to take something new with you every day! More than just a 'hint', it helps to show you how!
A heartfelt App
by Mind.W
This App captures the essence of The Reach Approach - a really heartfelt, generous, and comprehensive approach to self-help and personal development. The title 'Happy Hints' only touches on what is actually a generous supply of self-development content. The App also includes a wide selection of video and audio presentations, accompanied by a wonderful selection of music.  Highly professional, slick, and very attractive App overall!
Download This Ace App ASAP!
by Happier By The Day
I've downloaded many an app in my time but this is, by far, the best. Truly. Life can be really tough at times and having this app give you a gentle nudge to remind you that you can make things better a day at a time makes life that little bit easier. We ALL need this app in our lives, and I'm glad it's in mine.
An absolutely lovely app....
by PeacefulPaul
Which also has incredible depth.  Beautiful imagery combined with inspirational words based on ideas of enormous substance.  There is also access to a great many additional resources through the app that I'm pretty sure another app may have charged for, but in this case are free.  Really excellent!
Simply Inspiring!
by Ehamy
Finally, an app that can add value to day to day life, a refreshing change from the mindless social network apps and games which do have their place but this gives you something positive back.   Great work and a wonderfully original idea!
Jocelyne Ansorge
what a fabulous resource for happiness! 🙂
Briliant app 5 stars
by Lkc26
I found this app to be insightful as well as easy to use.  The links to videos and voice recordings are perfect for accessing on the go and the Happy Hints themselves have become essential to my everyday routine!!!
Best app ever created!
by jeanx27
It's so nice to have this app on my phone, I am never far away from personal development, just a click on Happy Hints and I'm in control of my day to day life.  Whether I need wisdom, confidence or spiritual upliftment, this app is my dearest friend.  I just totally love the creator of this app.  Everything is thought of for the betterment of body, mind and spirit.  I totally recommend this app; it's the best app ever and you won't regret buying it 🙂


Life changing
by Ldarby22
This app is a lifeline, it's inspiring and uplifting... daily reminders of Happy Hints and easy access to meditation, listening-in and more.  An excellent and beneficial resource at your fingertips when you need it at times of uncertainty.  Thank you  'Reach Approach team'.
Happy Hints... life changing!
by Spannercheck
I have never reviewed anything before but I felt compelled to do so now.  This app is simply wonderful.  I actually feel excited when my reminder goes off and I make time to read the Happy Hint in its entirety each time.  Such a simple yet profound concept, obviously created by someone with an amazing and generous mind.  You get so much, it just goes on and on.  In the middle of those moments of madness my Happy Hints comes to help me put it into perspective. Thanks to the creators of this app, you have no idea what a difference this is making to me and my life.

Want to be happy?  Get happy hints
by Sm14532

Positive energy and thoughts are shared daily that remind you of important things in life that we can so easiy forget.  Happy Hints is a feel good app which helps you start every day with a smile! Happy Hints lives up to its name and its positive energy means that it becomes addictive.
You must try this!
by GloriousRuby
I simply love this app and its creators!  What an inspiring body of work that's offered to us at such great value.  I have other 'self help' apps but they requre you to click on them and I haven't always felt like reaching for the good stuff.  Happy Hints messages you three times a day so you are never far away from an empowering thought.  I've been gifting this to my friends and loved ones and imagine you'll do the same once you've experienced the loving kindness that Happy Hints brings to your day.  There's so much more to the app, like the audio recordings, videos and documents section too.  Buy this, you won't regret it.  Love it Love it Love it!
It's simply the best....
by GregorioGrasshopper
It's simply the best app I have on my phone.  You don't need to be a disciple of The Reach Approach to derive immense benefit and joy from this app.  It prompts you daily to take a few minutes out to reflect and you can leave it at that or use it more deeply as part of a self-development journey, including an easy to use 'doorway' to a wealth of resources at no extra charge.  Even though I'm already blessed to work with Reach, Happy Hints has helped me to step up another gear, and it's always a sweet sound to hear my phone prompt me that a new Happy Hint is waiting for me!
Yoga to Go Kids
Congrats what a fantastic app x
Galina St. George
This is the best and possibly the most important application I have ever come across. We all want to be happy... While happiness is a state of mind which we are responsible for ourselves, this application is a freind which will regularly boost that feeling of happiness, since it sends us friendly reminders about how important it is to maintain this blissful state, take daily challenges with a smile and a philosophical frame of mind. I firmly believe that it will help millions of people to keep that important balance between mind, body and spirit and see our day-to-day challenges in perspective.  I cannot recommend it highly enough!