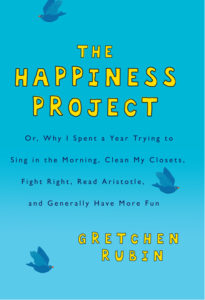 The Happiness Project brilliantly synthesizes the wisdom of the ages with current scientific research, as Rubin brings readers along on her journey to greater happiness. The Happiness Project covers everything from friendships to exercise, from TV-watching to educational pursuits, from messy closets to the contemplation of infinity.
Filled with practical advice, sharp insight, charm, and humor, The Happiness Project manages to be illuminating yet entertaining, profound yet compulsively readable. Rubin's passion for her subject jumps off the page, and reading a few chapters will inspire you to start your own happiness project.
Rubin's idea for a "happiness project" is no longer just encased in a book or a blog; it is slowly becoming a movement where individuals are coming together as groups and are taking responsibility for their happiness.
Why not see if this adventure interests you....